Blog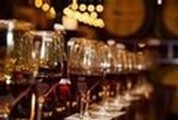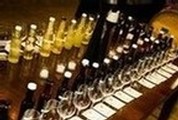 Did you know that smell – not taste – is the human sense that defines the overall flavor of wine? The unfortunate thing is that so many people are unsure of themselves when it comes to identifying aromas in wine and developing an understanding of what they enjoy. In fact, they're downright uncomfortable with the whole experience. That's one of the reasons I created the Middle Ridge Signature Aroma Table.
The Signature Aroma Table is an interactive, smell-able display of over 40 aroma "reference standards" that are typically used to train wine competition judges and wine writers. The inspiration for it came from a couple courses Melody and I took at UC-Davis – "Introduction to Sensory Evaluation of Wine" and "Descriptive Analysis of Red and White Table Wine." They are fantastic two-day seminars that I strongly recommend to everyone. In the second course, we were introduced to over 200 aroma standards that mimic what you smell in wine. It was so much fun that I wanted to share the experience with our club members and friends.
Making the aroma standards is a lot of work, though, so I make just a few dozen for the interactive display at our Annual Barrel Tasting. I start with a cheap wine that has little aroma of its own – but it's important for its alcohol content. I pour the wine into small bottles and then add a single ingredient to each bottle based on the "recipes" developed at UC-Davis. The alcohol in the base wine volatilizes – turns into vapor – the ingredients that are added to it. So, for instance, I'll add something like juice from a fresh grapefruit to a bottle of white wine, or pureed black cherries to a bottle with red wine. As the ingredient sits in the wine for a couple days, the aromas are extracted and really start to pop. Once the aromas are fully extracted, I strain any solids out of the sample and it's ready to go!
Although the aroma standards are made from fruit and other ingredients, the aromas naturally occurring in wine are the result of the entire winemaking process. It starts in the vineyards with the soil and climate. For example, the smell of olives is very common in Temecula Valley Cabernet Sauvignon – it's just something about the area. And then there's the fermentation process. All kinds of things can happen there. For starters, there are hundreds of strains of yeast that can be used, and each brings out a different aroma from the grapes. The barrel in which a wine is aged affects the aromas, too. Winemakers love to play around with all these things.
If you like the idea of learning about wine aromas and live in Southern California, be sure to join us for our Annual Barrel Tasting event. The Middle Ridge Signature Aroma Table is one of the highlights of the evening, and it's a lot of fun! You start by getting a glass of wine and then head over to the Aroma Table. I recommend smelling a few of the aroma standards before sniffing your glass of Middle Ridge. Go back and forth, sniffing the aroma standards and comparing them to your own glass of wine. And before you know it, you'll have an "Aha!" moment and be able to identify some of the aromas in the wine you're drinking.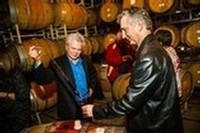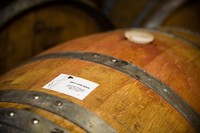 Anyone can develop a good "wine nose." The trick is to smell things whenever possible – smell the produce at the grocery store, sniff the herbs while you're cooking, smell the flowers in the garden. It's important to exercise the nose as much as possible. Your brain will store all these impressions even though you're not consciously aware of it. Just keep working at it, and one day you'll surprise yourself – and your friends – and start calling out wine aromas!
* * * * *
What can you expect to smell in wine? Check out the Wine Aroma Wheel created by Wine Folly.
Original Source: Wine Aroma Wheel by Wine Folly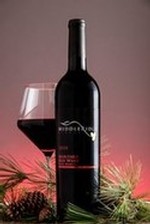 Our 2010 Meritage made from Paso Robles grapes was released just a few months ago, and I'm happy to announce that it's already racking up awards—most recently it won a Gold Medal at the Long Beach Grand Cru. We call it our yum-yum juice, and it seems the judges think so, too. Not a surprise, really, since Meritage has always been one of our signature wines.
This Bordeaux blend, so called because it's made from grape varietals from the Bordeaux region of France, consists of Merlot, Cabernet Franc and Cabernet Sauvignon … heavy on the Merlot.
Here's a fun fact: A red Meritage must be made from a blend of at least two of the following varietals: Cabernet Sauvignon, Merlot, Cabernet Franc, Malbec, Petit Verdot, and the rarer Carmenère, Gros Verdot and St. Macaire. None of these varietals can comprise more than 90% of the blend, and no other varietals can be used in the blend.
By the way, did you ever wonder if you're pronouncing the word Meritage correctly? It's really easy to remember the correct pronunciation. Just think of the word heritage. The word Meritage is actually a combination of the words "merit" and "heritage" and is the result of an international contest – with 6,000 entries! – held in the late 1980s by the Meritage Alliance. These American winemakers joined forces and held the competition to create a name that would identify wines blended in the tradition of Bordeaux. Why didn't they just call their wine a Bordeaux? Good question. Wineries outside of Bordeaux, France are prevented from doing so based on an international agreement. Now there's an interesting tidbit!
Another thing most folks don't know is that most wines are blends. The label may say Cabernet Sauvignon, Merlot, what have you, but that doesn't necessarily mean the bottle contains 100% of that particular varietal. The government has specific guidelines on wine labeling. For example, a wine must be made from at least 75% Cabernet Sauvignon in order to label it as a Cabernet Sauvignon. The remaining 25% can be whatever grape the winemaker wants to use to bring out the best notes of the Cab Sauv.
But back to the Meritage … Another fun fact: I like to age my reds for at least 24 months in French oak. This one was aged exceptionally long – for a full 39 months! Yep, that's a long time. But the result is a beautiful, rich wine with lots of ripe plum and juicy blackberry aromas that morph into cherries. With just the right amount of acid and a smooth tannin structure, it's a delight to drink alone or to pair with red meat dishes like roast beef or barbeque tri-tip.
One sip and I'm willing to bet that you'll feel that our Meritage is worth the wait!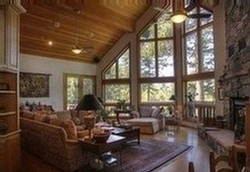 Home Tour: 10:00am - 4:00pm
Wine Tasting: 1:00 - 4:00pm
Presented by
Idyllwild Area Historical Society
&
Middle Ridge Winery
The mountain lifestyle … Curious to see what it's all about? Then you won't want to miss the 14th Annual Idyllwild Home Tour where you will have access to five private homes that will be open to the public for the first time. The homes vary in age, style and setting – from quaint old cabins to modern, dramatic architecture.
And when you're ready for a break from your self-guided tour, stop by the Historical Society Museum and relax with a Middle Ridge wine tasting. The annual home tour is the Historical Society's major fundraiser, and this year Middle Ridge will be joining the fundraising festivities with wine tastings at the Museum from 1:00-4:00pm. You can also purchase a bottle to take home at a special 10% discount when you show your Home Tour book.
Home Tour
10:00am-4:00pm, $20 per person
(wine tasting not included)
Tickets can be purchased on the day of the event at the booth in the center of town next to the Idyllwild Inn (54300 Village Center Road) or at the Idyllwild Area Historical Society (54470 N. Circle Drive). Presale tickets are also available at the Historical Society Museum and by mail. For more information, call Carolyn (951-317-4613) or Charlotte (951-201-1400).
Middle Ridge Wine Tasting
1:00-4:00pm, $15 per person
Complimentary for Middle Ridge Wine Club Members (up to 2 people)
SPECIAL NOTE for wine club members: Your fall wine club package will be available for pickup at the event.
---
EVENT LOCATION - WINE TASTING
Idyllwild Area Historical Society
54470 N. Circle Drive
Idyllwild, CA 92549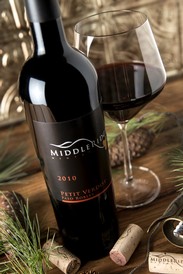 It seems very few people have had the good fortune of tasting and appreciating a Petit Verdot. That's because few winemakers attempt making it – the grapes produce a wine that is typically coarse, tannic and hard to drink. However, mine has nice bright acids, smooth tannins and is really delicious.
The name Petit Verdot means "small green" and is actually the reason this grape is difficult to grow in its home region of Bordeaux. Unless weather conditions are perfect during flowering, the berries won't develop, and they remain small. It also tends to ripen later than other Bordeaux varietals, which means that in some years the entire crop is lost. As a result, many French growers uprooted their Petit Verdot plants in the 1960's in favor of the easier-to-grow Cabernet and Merlot. However, the 1980's saw a resurgence of Petit Verdot when viticulturists in the U.S., Australia and Argentina discovered that the grape grows really well in the right climate.
I can't wait for you to try my Petit Verdot. It just may become one of your favorites!

"The red wine/ white wine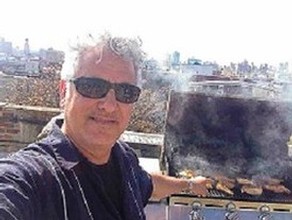 dilemma is easily solved; drink what makes you happy. Sure a bold red can hold up to your medium rare steak but a crispy Pinot Grigio is equally as satisfying and it might bring out flavors you missed," says Chef Christo Gonazales, a New York City-based executive chef who definitely knows what he's talking about.
You can catch Chef Christo as a Char-Broil All Star making appearances on the Weather Channel. You can also find him catering some of New York's swankiest events and elite private parties, wowing everyone with his colorful, mouth watering presentations. Lately, you might also spot Chef Christo sipping Middle Ridge wine and working with Winemaker Chris to create some delicious food and wine pairings -- with amazing results.
"I've always wanted to be a Chef ever since I was a little boy."
Christo remembers fondly how he used to race home from school because he had just fifteen minutes to catch Julia Childs on television. "I tried to learn as much as I could – I wanted to try do everything I saw Julia do," said Christo. "Since I lived in rural New Mexico I could easily catch fish and cook them. Then I started changing and adapting Julia's recipes and cook food the way I wanted to."
Life has a funny way of working though, and Christo didn't become a professional chef right away. Instead he worked for more than a decade as a fashion stylist for major magazines and then moved on to other non-food related jobs. But he kept cooking as hobby while his desire to cook professionally simmered in the background. "I was a single dad, and I'd take my son to the playground and I'd bring my soup for us to eat. Other parents there started tasting my soups and liked them. So I turned it into actual business. I would do home deliveries and bring people a week's worth of good, homemade gourmet soup." One of his happy customers told him about a catering company looking for a chef. One job lead to another, and now he's Executive Chef at Showstoppers Catering. He continually blows everyone away with his amazingly artistic food presentations.
One presentation that we're very pleased with is his recipe for NEW YORK CHOP & SLAW.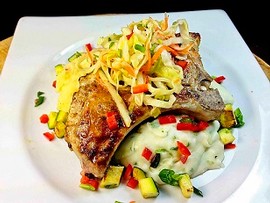 This recipe features grilled pork chops with garlic and parsley mashed potatoes, parsnip and red pepper puree, grilled zucchini, and cabbage slaw made with a green apple, carrot, and red radish.
Chef's wine recommendation: 2013 Pinot Grigio
"The coleslaw I created for this dish was absolutely inspired by the Pinot Grigio. I love the wine's crisp, refined taste, and I knew that the fresh slaw would complement it nicely."
You can find "Chef Christo Gonzales" on Facebook, or enjoy his blog – Chez What?
Blog
Recent Posts
October 21, 2016

October 1, 2016

October 22, 2015

August 13, 2015

(2 Comments)

June 30, 2015

June 29, 2015

(2 Comments)

May 19, 2015

May 18, 2015

November 3, 2014

November 1, 2014
Blog Categories
Our Writers
Blog Archives