2014 Pinot Grigio
Blue's Creek Vineyard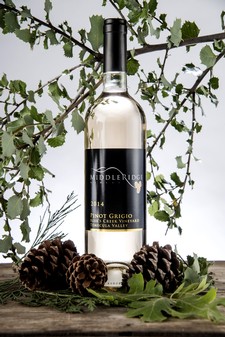 Wine Specs
Appellation
Temecula Valley
Vineyard Designation
Blue's Creek Vineyard
Aging
3 months aging sur lie (on the lees)
Fermentation
Stainless steel jacketed tank
Residual Sugar
Bone dry (<0.03%)
The 7th harvest for our Blue's Creek Vineyard grapes took place almost a month early, but the timing was perfect in terms of the ripeness of the seeds and the targeted sugar level of the grapes. Combined with the use of a special wild yeast for fermentation, the result is a crisp, mouthwatering Pinot Grigio with punchy aromas of tree fruits like apples and pears. It delivers a rich, weighty feeling on the middle of the tongue and a persistent and refreshing finish. It's a terrific match for a goat cheese and walnut salad, crispy garlic and chili prawns, or gnocchi in a brown butter sauce.
Wine Specs
Appellation
Temecula Valley
Vineyard Designation
Blue's Creek Vineyard
Aging
3 months aging sur lie (on the lees)
Fermentation
Stainless steel jacketed tank
Residual Sugar
Bone dry (<0.03%)
Product Reviews
James Fallbright
(Jun 23, 2015 at 1:30 AM)
OMG - perhaps the only white wine, let alone a Pinot Grigio that i have EVER had a long hang time on the mouthfeel. This is a wonderfully crafted wine. Next time i am at Crush & Brew, i am going to make sure my friends order this one.
Jim Baril
(Jun 16, 2017 at 10:22 AM)
Always enjoyed!