2014 Vin Gris of Pinot Noir
Santa Rita Hills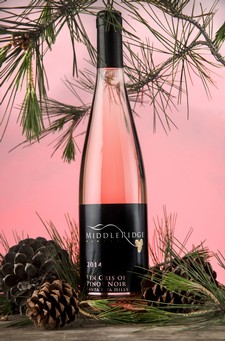 Wine Specs
Appellation
Santa Ynez Valley
Fermentation
Stainless steel jacketed tank
Residual Sugar
Bone dry (<0.03%)
This Vin Gris is surprising and delighting white and red wine drinkers alike! It's vibrant and luscious with aromatics and flavors of wild strawberry and peach with a little pear and a hint of grapefruit. The tannins remind you of stone fruit plucked fresh from the tree. Allowed to have skin contact for 24 hours in a cold soak before pressing, this wine was fermented at a very low temperature to bring out the aromatics and give it the mouthfeel you would expect from a perfectly DRY rosé. Bright acidity assures that it is anything but boring! And you've got to love the deep salmon color and copper highlights. It pairs well with almost anything – your favorite charcuterie and cheese plate, a fresh salad, fish tacos and, of course, friends! It's a great artisanal rosé.
Wine Specs
Appellation
Santa Ynez Valley
Fermentation
Stainless steel jacketed tank
Residual Sugar
Bone dry (<0.03%)
Product Reviews
Cindy Lemos
(Jul 1, 2015 at 6:23 PM)
Love, love, LOVE this gorgeous salmon pink wine. Not sweet at all, it is still delightfully fruity with strong strawberry notes coupled with orchard fruit, finishing with a bit of tart cranberry. To me, this is a quintessential "relaxing on the patio in the summer by the pool" wine.
K. Barnes
(Jul 12, 2015 at 12:57 PM)
I have to admit that I am not normally a Rose fan, they just don't do it for me, but hey its Summer and this red wine guy was looking for something different as the usual Summer substitutes like, Chardonnays, Savu. Blancs, Viogniers, etc. were not tripping my taste buds either. However, with this Vin Gris of Pinot Noir I have found my perfect hot weather wine. Once again Middleridge has practiced the wine making art in a unique and creative way and they have done a remarkable job with this wonderful wine. I wouldn't even begin to say its sweet, as one would certainly expect, it has an exquisite summer berry lightness to it, with just the right amount of fruit on the nose and it's as beautiful in the glass as it is on the palate, smooth and refreshing when it 1st hits your tongue and then further reveals a nicely complex pleasant, yet sharper character on the finish very polished and delightful. As the previous reviewer mentioned. my Pool and Jacuzzi now have their new go-to refresher!