Idyllwild, California
Our Home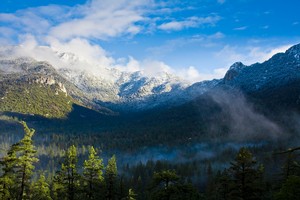 Idyllwild was named "Best Mountain Getaway" by LA Weekly ... and we know why! Not only do we have the most beautiful blue skies, but there's always something happening. Remember when we had small-town Fourth of July parades? We do, every year! We also have a Hallowe'en parade for the young and the young-at-heart!
And there are great resources to help you find out about all of our events as well.
Keep Up-to-Date with Idyllwild!
Several of our friends and family have found that there are two excellent resources to keep in tune with the ongoings of Idyllwild. Believe it or not, there are a multitude of daily events in town so nobody should ever suffer cabin fever. We strongly recommend that you subscribe to these sites:
Subscribe to the Idyllwild Weekender Bulletin. It's published and emailed weekly by our local newspaper, the Idyllwild Town Crier. You should also consider getting a paid subscription to the paper and have it mailed to you so you can keep current with our mountain community!
Looking for a room to rent? There is an excellent resource managed by one of our local inkeepers. This list encompasses almost all of the inns, lodges, and rental agents in town. Please see http://www.idylodging.com/ to see what is available for your getaway weekend!
And, if you would like to learn a bit more abou the history of Idyllwild, we invite you to read through these pages hosted by the Idyllwild Area Historical Society.
We look forward to seeing you visit us here at Middle Ridge Winery in our wonderul village of Idyllwild, California!