Smoky Sticks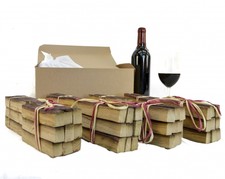 Handcrafted from locally sourced materials in the heart of California wine country our line of garden and barbeque products are a perfect addition to your outdoor space. Browse our collection of accessories garden art and tools. And whether you're a master griller a fledgling horticulturist or something in between we've got something you can be proud to call your own.
Our SMOKY STAVES are an ideal gift for the master griller in your life. After years of soaking in and infusing wine with their delicate oak flavor we dry cut and package the fragrant staves perfect for grilling and smoking. Each order includes 3 bundles of wine-soaked barrel stave wood (9 staves per bundle).
To use: About 15-60 minutes before cooking start soaking the chips in water. For charcoal or wood barbeques throw the soaked chips directly on the fire. For gas grills package the soaked chips and water in tinfoil and perforate the package. Place on the grill next to the food and enjoy!