August 13, 2015 | Just For Fun | Chris Johnston
A Sideways View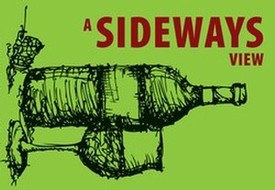 Remember the movie Sideways? This very popular movie, which came out in 2004, chronicles the journey of two middle-aged men -- a self-proclaimed wine expert and his soon-to-be-married actor friend -- through the Santa Ynez wine region. It changed the landscape of red wine, driving sales of Pinot Noir into the stratosphere while causing Merlot sales to plummet. As a Merlot lover, that movie always annoyed me, but I decided to revisit it since we recently released our Lily Rock 2009 Merlot and 2014 Vin Gris of Pinot Noir. There are a lot of great quotes in the movie, so I thought I'd have some fun with them and maybe even slay a few myths. So here we go …
If you've seen the movie and know a bit about wine, you know Maya adores wine and everything she says about wine is true. What you may not know is that wine snob Miles is almost always wrong about wine.
Maya: I like how wine continues to evolve. Like if I opened a bottle of wine today, it would taste different than if I'd opened it on any other day, because a bottle of wine is actually alive. And it's constantly evolving and gaining complexity.
She's right! Wine is a living, breathing thing. You might think that once wine is bottled, the biological process stops … almost, but not quite. A little oxygen enters through the cork, and even this minute amount is enough to allow the wine to age. It's why I favor cork closures over plastic corks or screw-tops. The latter don't allow any oxygen to be exchanged, and wine needs the internal chemical reaction with oxygen to gain complexity – it helps form long tannin chains, and the longer the chains, the smoother and mellower the wine.
Miles: (tasting the Estate Chardonnay at Byron Wines) Mmm, a little citrus ... maybe some strawberry ... passion fruit ... and, oh, there's just like the faintest soupçon of, like, asparagus and just a flutter of a, like a, nutty Edam cheese.
This quote always makes me laugh. When you get that vegetal, asparagus flavor, it means the grapes were not fully ripe at harvest. It's definitely not something you want in your finished wine.
As far as the "nutty" component goes, that could be from malolactic fermentation. But when Miles adds the cheese reference, it clearly points to a bacterial problem -- probably Brettanomyces. Again, not desirable!
His reference to strawberries is also comical. Strawberry isn't a component of any Chardonnay I've encountered, nor is it mentioned in the wine tasting notes for any of Byron's many Chardonnays.
Jack: If they want to drink Merlot, we're drinking Merlot.
Miles: No, if anyone orders Merlot, I'm leaving. I am NOT drinking any (BLEEPING) Merlot!
This quote between Miles and his un-wine-educated friend Jack is probably the most famous one in the movie. It set the stage for the rapid decline in sales for the previously popular Merlot. Tasting rooms everywhere began hearing wine visitors tell their pourers, "Give me anything, just not Merlot."
Merlot is a fantastic grape. I love a well-made bottle of Merlot. It tends to be very smooth – it's not in-your-face bold, and it's not as acidic or tannic as other varietals. That's why I use Merlot as the base of our Meritage. Typically, 50% of the blend is Merlot, and the rest is Cabernet Franc and Cabernet Sauvignon. One time I varied this, and the Coyote Run blend was born. It, too, is half Merlot, but I blended it with some Petit Verdot and Malbec I had on hand at the time. I love to experiment, and the Coyote Run turned out great. It sold out quickly, but I'll be bottling the 2012 vintage soon!
Jack: (pouring champagne while Miles drives on their first morning) Pinot Noir? Then how come it's white?
Little does Jack know that some white wines come from purple grapes. For instance, the Middle Ridge Pinot Grigio grapes are purple. The same is true of Pinot Noir – purple grapes. The Pinot Noir Champagne Jack was pouring was probably a light blush color at crush, but the color falls out quickly during fermentation. It's all a function of how firmly the grapes are pressed. My Pinot Grigio goes to press on a medium setting – 18psi pressure on the grapes. It starts out pink but, after fermentation, it's a light straw color, just like the color of the Champagne Jack and Miles were drinking in the movie.
Miles: Quaff-able, but uh ... far from transcendent.
Quaff-able refers to a drinkable, young wine that doesn't require aging yet can still be delightful.
Transcendent sends you to another level, generally referring to an older, beautifully aged wine opened at the perfect time in its aging crescent.
At Middle Ridge, we make both quaff-able and transcendent wines. Our new Lily Rock label features many wines that fall into the "quaff-able" category, debuting with a 2009 Merlot from the Russian River Valley.
Our flagship, black label wines are crafted for the "transcendent" category. My goal has always been to make wines that are drinkable on release, yet will continue to benefit with a few years of cellaring. Thus far, I've been very satisfied with the results.
I invite you to try a few Middle Ridge wines and let us know what you think. And above all, drink what makes your palate happy.
Comments
Sue Montgomery
@ Aug 19, 2015 at 8:12 AM
I love Chris' take on Sidways. I agree that Merllot can be a great wine. Great article with perceptive insights on wine.
Steve Amaon

@ Aug 24, 2015 at 10:17 AM

The Byron tasting room isn't in the movie and the Byron wine that is mentioned is the champagne made from Pinit Noir that Jack opens in Miles car. The wine that Miles detects the strawberries etc is a rose tasted at Sanford (the old Sanford tasting room)....just sayin' :-)

Commenting has been turned off.
Blog
Recent Posts
October 21, 2016

October 1, 2016

October 22, 2015

August 13, 2015

(2 Comments)

June 30, 2015

June 29, 2015

(2 Comments)

May 19, 2015

May 18, 2015

November 3, 2014

November 1, 2014
Blog Categories
Our Writers
Blog Archives