Blog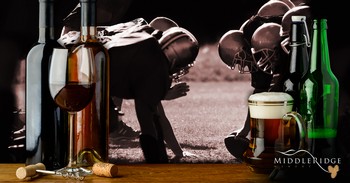 It is gridiron season which means lots of pigskin action, camaraderie and food. It is also the WinoGal version of The Most Wonderful Time of the Year. Granted, my 49ers are currently cellar dwellers – and that is not a good thing when referring to a football team!
If you are not a big football fan, hanging out with friends who are can feel like being in a crowd of people speaking a foreign language. Not to worry, though. Knowing a few key words will up your football "creds". For instance, pigskin refers to the actual ball thrown in this game, and gridiron refers to the field upon which the game is played. You might also think that drinking wine with a group of beer-drinking football diehards is out of place, but that's a thing of the past.
My first experience with fine wine came while working in Yosemite. Having been a bartender as a college student in San Diego, it was easy to segway into bartending at the popular Loft in Yosemite Village after graduation. It was seasonal work, though. Fortunately, in late August, Stewart Good, Food and Beverage Director at the Ahwahnee Hotel, recruited me to join his wine staff. (By the way, Stewart is still at the Ahwahnee overseeing the food and beverage staff!)
Knowing that there are many things to learn about fine wine, Stewart didn't allow newbies to pour wine at events or in the main dining room until multiple education levels were achieved. So my first fall was spent in the Indian Room Bar at the Ahwahnee and, of course, football was in full swing.
Beer is traditionally the beverage of choice for football fans, but with the Ahwahnee touting over 130 stellar wines from all over the world, we served many glasses of wine in the Indian Room. The hotel also featured a gourmet football menu, and so began my food pairing experience! My years in Yosemite as a wine steward and sommelier led me to experiment with my own flavor combinations, pairing food and wine to enhance social gatherings on a daily basis.
Today, I enjoy hosting football parties at home and have put together a collection of my favorite game recipes along with wines to pair with each. I'm happy to share a few of them below. Pick one or two, add a few more dishes like a fresh salad with dried cranberries and walnuts, and your gourmet gridiron party is sure to be the talk of the season!
Pinot Grigio is the perfect choice for those who prefer white wines. The Middle Ridge Pinot Grigio is crisp and refreshing with lots of apple and pear flavors and pairs nicely with cheese plates and fall salads, bratwurst or a deep fried turkey. If you are the party host, try something daring like Truffle Fries. Fear not! They are really simple:
Use large russet potatoes – you can even leave the skin on, just wash well. Cut off both rounded ends and then slice the potato lengthwise repeatedly to get – well, fries!
Be sure your deep fryer has clean oil, and heat to the maximum temperature. Fry in batches, being careful not to overload the basket because you want crispy fries.
When fries are golden brown and floating on the top of the fryer, remove them and let drain on paper towels.
Move fries to a large bowl and drizzle a healthy amount of truffle oil over them and toss well. Then move fries to a serving plate and finish with a liberal dose of truffle sea salt. (Both of these ingredients can be found in gourmet spice shops and/or specialty markets designed for foodies.)
For red wine lovers, Middle Ridge's Lily Rock Merlot is an excellent choice as it is the perfect accompaniment to baby back ribs slathered in a spicy sauce. Its smooth berry flavors melded with just a hint of tannins are enhanced when paired with another football favorite – chili! While everyone has their own favorite chili recipe, this one is easy and sure to be a crowd pleaser: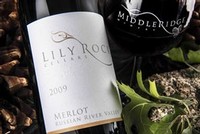 1 large yellow onion, chopped
2 large jalapenos, chopped (with or without seeds)
1 lb of lean ground beef
1 Tbsp each – powdered garlic, powdered onion & cumin
2 tsp ground black pepper
2 tsp sea salt
OPTIONAL: up to 1 Tbsp chili flakes, depending upon your preference for heat!
2 large cans of red kidney beans, drained
1 ear of corn, left in the husk & smoked on the BBQ grill
2-3 large tomatoes, chopped (you'll want 2 cups of chopped tomatoes)
Start with a large, deep pan. Alternatively, if you are planning to transport the chili or keep it warm in a crock pot, you may first use a sauté pan and then transfer the meat mixture to the crock pot when adding the final ingredients.
Brown the onion and jalapenos in 2 Tbsp olive oil, then add the ground meat and sauté until cooked. Add in all seasonings and mix well. Remove the husk & silk from the corn and then very carefully, stand the corn on its large end on the cutting board and cut the corn from the cob using a sharp knife.
Add kidney beans, corn kernels and tomatoes into the chili and mix well. Cover and leave on low heat, setting for at least 2 hours to allow tomatoes to break down and the flavors to fully develop.
Serve with grated cheddar cheese, fresh chopped tomatoes and chopped scallions.
For those who enjoy a full bodied red wine, Middle Ridge's Meritage is an excellent choice. The hearty cherry/berry flavors and developed tannins are the perfect pairing for a smoked beef brisket or beef ribs with a hearty BBQ sauce. A lot of people are afraid to do their own brisket when, in reality, the oven version is really quite simple – the secret is to cook the brisket "low and slow" the day before the football party:
20 lb beef brisket – Keep in mind that you lose approximately half of the weight during cooking, so plan accordingly. A good rule of thumb is at least 6 ounces of finished brisket per guest. Having leftovers is a good thing, so don't be afraid to buy extra meat.
Put the brisket, fat cap down, into a deep roasting pan. Set your oven or smoker to 225 degrees.
2 cups of whole fruit juice, depending on what sort of flavor you wish to cultivate. Pineapple acts as a natural meat tenderizer, so your meat will break down more and may cause it to finish faster than apple, pear, pomegranate or even cherry juice, so keep that in mind. A mix of fruit juice can also be used, so be creative depending on what else you are serving that day.
Add seasonings to the juice & mix well:
1 Tbsp each – powdered garlic, powdered onion and cumin
1 Tbsp salt
1 tsp each – smoked paprika and chili powder
Using a food syringe found in specialty kitchen stores, carefully draw the seasoned juice into the syringe. Pierce the meat, being careful not to fully penetrate the meat to the bottom of the roasting pan. Depress the plunger and watch as the juice swells the meat as it absorbs the juice.
Repeat this process across the top of the brisket, piercing the flesh at one inch intervals. When the brisket begins to leak juice during this process, you know that you have it fully saturated.
Now make a rub using the exact seasoning ingredients noted above for the juice infusion and rub across the entire surface of the brisket.
You are now ready to put brisket into the oven or smoker. Expect this to take at least 10-12 hours. You want the internal temperature to be 195 degrees when finished. Use a meat thermometer to check this after 10 hours.
And there you have it … wine and football go very well together! So grab some bottles of your favorite Middle Ridge wine, plan a football-themed menu and tune to your favorite team's game this weekend.
Cheers!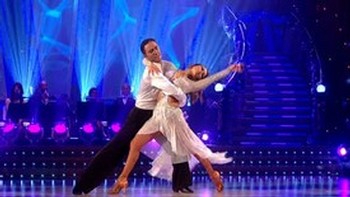 "Wine is a dance partner that knows its moves but needs a partner that is also equally versed and willing to dance the same dance. You can't have a wine that dances a waltz with food dancing the rumba," says Chef Christo. And he should know – Chef Christo has catered some of New York's most glamorous events, wowing everyone with his creative, artistic food presentations. So if he says a food is dancing a rumba, you probably want to find a wine that can shimmy to the beat of conga drums … and you'll get an incredible pairing like this one.
Drawing on creative imagery when describing food and wine is what Chef Christo does on an ongoing basis, and it's really no surprise when you learn about his artistic background. Before becoming a chef, he worked for more than a decade as a fashion stylist for major magazines. "I picked out clothes and created unusual accessories to go with them," says Christo. "I made funky head wraps from paper, I tied ties in unique ways – that kind of thing. I'd take all that and put it into my presentations." These days, he pours that artistic ingenuity into his cooking where he feels that the presentation is just as important as the taste. "I use a color a wheel to help me pick the seasonal ingredients for my recipes. I try not to have too similar colors on a plate. Layers of colors are okay, but I prefer contrasting colors. So, for example, if I choose corn as an ingredient, I would put it with purple potatoes. I go about my cooking the art school way."
He is always trying out unique combinations but the experiments starts first in his brain, not in the kitchen. "If I experiment when I'm cooking and it doesn't work out, then I've wasted food. So instead, I put together unique food combinations in my mind. As I shop for the ingredients I visualize the final product. I start to see how it will look as I shop. Then I go to the kitchen and try it on the plate a couple of times to make sure it all works."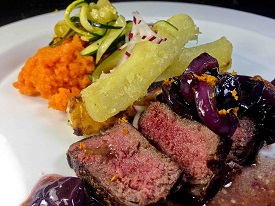 Christo's CHOCOLATE CHERRY VELVET ANTLER STEAK is a great example of this meal-making mental imagery. "I took one taste of the Zinfadel and absolutely knew that I had to make a chocolate-cherry sauce to pair with it. Then I wanted a nice rich meat to go with the sauce, and I thought of venison. Just be sure to get a mild cut of venison – you don't want anything too strong."
You'll love how Chef Christo dresses up venison with caramelized red onion, blue berries and orange zest. It's finished with a bittersweet chocolate compound butter, and served with carrot puree, julienned zucchini and fried yucca.
Chef's wine recommendation: Middle Ridge 2010 Old Vine Zinfandel
You can find "Chef Christo Gonzales" on Facebook, or enjoy his blog – Chez What?
Blog
Recent Posts
October 21, 2016

October 1, 2016

October 22, 2015

August 13, 2015

(2 Comments)

June 30, 2015

June 29, 2015

(2 Comments)

May 19, 2015

May 18, 2015

November 3, 2014

November 1, 2014
Blog Categories
Our Writers
Blog Archives