Blog

In my post on Demystifying Wine Aromas, I mentioned that smell – not taste – is the human sense that defines the overall flavor of wine. And I spoke about the Middle Ridge Signature Aroma Table – a smell-able display of aroma "reference standards" that are typically used to train wine competition judges and wine writers. I prepare the Aroma Table every year to help guests at our Annual Barrel Tasting learn to identify aromas in wine and develop an understanding of what they enjoy. The table contains over 40 aroma samples – everything from black cherries, nutmeg, and tobacco in red wine to pears, lime and grapefruit in white wines.
The Signature Aroma Table has been a huge hit year after year. Guests enjoyed it so much – especially when they had one of those "Aha!" moments – that I wanted to do more to enhance their learning experience. And that's why I expanded the table to include oak aroma samples.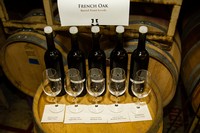 The first addition to the table was five samples of wine aged in French oak. Each sample represents a different toasting level on the inside of the barrel – light, light+, medium, medium+, and heavy. (Winemakers get to choose the toasting level when buying barrels.)
It was so much fun to see the looks of surprise when guests smelled the samples and realized how much barrel toasting impacts the aroma of wine. These are definitely good students, so I couldn't stop there. The following year, I added a set of American oak samples. Now guests could experience not only the impact of toasting levels but the differences in the type of oak used as well. Wow, this was fun!
So what is it that folks experience? Here's some interesting info on what happens to wine aromas the longer a barrel is toasted:
Wine aged in a lightly toasted barrel retains some of the fresh wood aromas of the barrel.
As a barrel is toasted longer, the fresh wood aromas diminish and sweeter, sugary aromas from the wood such as butter, caramel and vanilla increase.
At higher toast levels, these aromas are replaced with darker, earthier aromas such as spice, smoke, tobacco, and coffee.
And what about the differences between French and American oak?
FRENCH OAK is a much tighter grain than American oak. As such, the aromas imparted by a French oak barrel are more subtle, which allows those of the grape varietal to be more noticeable. In addition to a perceived aromatic sweetness, common descriptors for wines aged in French oak are fruity, cinnamon and allspice along with chocolate, smoky and coffee.

AMERICAN OAK, with its wider grain, tends to impart stronger, more obvious and sweeter aromas. Common descriptors for American oak are vanilla, honey, butterscotch, coconut, sweet spices and dill. Aromas of pine, resin, and cedar are also associated with American oak.
From the winemaker's perspective, a wine barrel is never "just" a barrel but a powerful took in the winemaker's arsenal. I actually think of them as my spice boxes. I use them to season wine in much the same way that I use spices to season food when I'm cooking.
Winemakers usually have a strong preference for the kind of oak and the toasting level used to make their barrels. I certainly do! I use French oak – and a medium or medium+ toast – exclusively because I like the way it works in subtle ways to enhance the natural fruit aromas of the wine. In my opinion, American oak tends to overpower the beauty of the fruit. But, like I said, that's my preference. You have yours, too, although you may not know how to describe it or what to look for when you're shopping for wine. And that's why I love sharing the experience of our Signature Aroma Table. If you live in Southern California or can make arrangements to be in the area, I hope you'll join us for our Annual Barrel Tasting and develop a better understanding of what you enjoy in wine … one sniff at a time!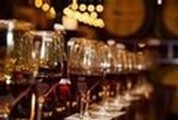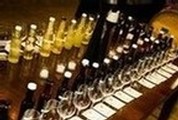 Did you know that smell – not taste – is the human sense that defines the overall flavor of wine? The unfortunate thing is that so many people are unsure of themselves when it comes to identifying aromas in wine and developing an understanding of what they enjoy. In fact, they're downright uncomfortable with the whole experience. That's one of the reasons I created the Middle Ridge Signature Aroma Table.
The Signature Aroma Table is an interactive, smell-able display of over 40 aroma "reference standards" that are typically used to train wine competition judges and wine writers. The inspiration for it came from a couple courses Melody and I took at UC-Davis – "Introduction to Sensory Evaluation of Wine" and "Descriptive Analysis of Red and White Table Wine." They are fantastic two-day seminars that I strongly recommend to everyone. In the second course, we were introduced to over 200 aroma standards that mimic what you smell in wine. It was so much fun that I wanted to share the experience with our club members and friends.
Making the aroma standards is a lot of work, though, so I make just a few dozen for the interactive display at our Annual Barrel Tasting. I start with a cheap wine that has little aroma of its own – but it's important for its alcohol content. I pour the wine into small bottles and then add a single ingredient to each bottle based on the "recipes" developed at UC-Davis. The alcohol in the base wine volatilizes – turns into vapor – the ingredients that are added to it. So, for instance, I'll add something like juice from a fresh grapefruit to a bottle of white wine, or pureed black cherries to a bottle with red wine. As the ingredient sits in the wine for a couple days, the aromas are extracted and really start to pop. Once the aromas are fully extracted, I strain any solids out of the sample and it's ready to go!
Although the aroma standards are made from fruit and other ingredients, the aromas naturally occurring in wine are the result of the entire winemaking process. It starts in the vineyards with the soil and climate. For example, the smell of olives is very common in Temecula Valley Cabernet Sauvignon – it's just something about the area. And then there's the fermentation process. All kinds of things can happen there. For starters, there are hundreds of strains of yeast that can be used, and each brings out a different aroma from the grapes. The barrel in which a wine is aged affects the aromas, too. Winemakers love to play around with all these things.
If you like the idea of learning about wine aromas and live in Southern California, be sure to join us for our Annual Barrel Tasting event. The Middle Ridge Signature Aroma Table is one of the highlights of the evening, and it's a lot of fun! You start by getting a glass of wine and then head over to the Aroma Table. I recommend smelling a few of the aroma standards before sniffing your glass of Middle Ridge. Go back and forth, sniffing the aroma standards and comparing them to your own glass of wine. And before you know it, you'll have an "Aha!" moment and be able to identify some of the aromas in the wine you're drinking.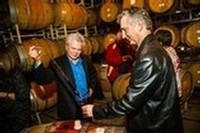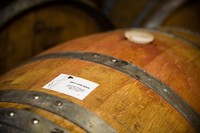 Anyone can develop a good "wine nose." The trick is to smell things whenever possible – smell the produce at the grocery store, sniff the herbs while you're cooking, smell the flowers in the garden. It's important to exercise the nose as much as possible. Your brain will store all these impressions even though you're not consciously aware of it. Just keep working at it, and one day you'll surprise yourself – and your friends – and start calling out wine aromas!
* * * * *
What can you expect to smell in wine? Check out the Wine Aroma Wheel created by Wine Folly.
Original Source: Wine Aroma Wheel by Wine Folly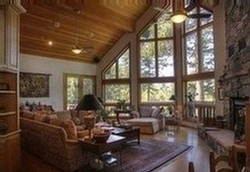 Home Tour: 10:00am - 4:00pm
Wine Tasting: 1:00 - 4:00pm
Presented by
Idyllwild Area Historical Society
&
Middle Ridge Winery
The mountain lifestyle … Curious to see what it's all about? Then you won't want to miss the 14th Annual Idyllwild Home Tour where you will have access to five private homes that will be open to the public for the first time. The homes vary in age, style and setting – from quaint old cabins to modern, dramatic architecture.
And when you're ready for a break from your self-guided tour, stop by the Historical Society Museum and relax with a Middle Ridge wine tasting. The annual home tour is the Historical Society's major fundraiser, and this year Middle Ridge will be joining the fundraising festivities with wine tastings at the Museum from 1:00-4:00pm. You can also purchase a bottle to take home at a special 10% discount when you show your Home Tour book.
Home Tour
10:00am-4:00pm, $20 per person
(wine tasting not included)
Tickets can be purchased on the day of the event at the booth in the center of town next to the Idyllwild Inn (54300 Village Center Road) or at the Idyllwild Area Historical Society (54470 N. Circle Drive). Presale tickets are also available at the Historical Society Museum and by mail. For more information, call Carolyn (951-317-4613) or Charlotte (951-201-1400).
Middle Ridge Wine Tasting
1:00-4:00pm, $15 per person
Complimentary for Middle Ridge Wine Club Members (up to 2 people)
SPECIAL NOTE for wine club members: Your fall wine club package will be available for pickup at the event.
---
EVENT LOCATION - WINE TASTING
Idyllwild Area Historical Society
54470 N. Circle Drive
Idyllwild, CA 92549
Blog
Recent Posts
October 21, 2016

October 1, 2016

October 22, 2015

August 13, 2015

(2 Comments)

June 30, 2015

June 29, 2015

(2 Comments)

May 19, 2015

May 18, 2015

November 3, 2014

November 1, 2014
Blog Categories
Our Writers
Blog Archives