June 30, 2015 | Wine | Cindy Lemos
Introducing ... Lily Rock Cellars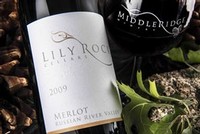 There's a new wine label in the Middle Ridge family and after trying their debut wine – the Lily Rock Cellars 2009 Merlot – I have to admit, I am smitten. Also known as Tahquitz Rock, this huge monolith of granite rises over Idyllwild and was made legend by native tribes who told tales of disappearing maidens and boulder battles between braves and an evil chief that tore deep holes in the earth, forming the local lakes. Today it is a favorite of rock climbers as the sheer granite pitches rival some of the challenging climbs found in Yosemite.
Merlot is my favorite wine grape, bar none. It was disparaged for no good reason by Miles in the popular wine flick Sideways, which led to a real life collapse in Merlot sales. However, it turns out his coup de grâce 1961 Cheval Blanc that he opens at the end of the movie is made from Cabernet Franc and yes, MERLOT!
Merlot is a sibling of Cabernet Sauvignon, and both share Cabernet Franc as their proud papa. It is one of the five grapes of Bordeaux that can be used in any combination in the popular American Meritage blends. (Note: Pronounce Meritage like "heritage". After all, we are Americans, not stuffy French oenophiles!)
Merlot's mother is a little known, but prolific grape varietal called Madeleine de Noire Charentes. She also begat Malbec, another of the five red grapes of Bordeaux blends.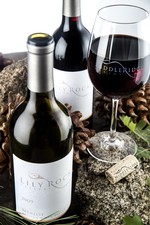 The fruit in the Lily Rock Cellars 2009 Merlot hails from the esteemed Russian River Valley, and I was hooked by the first sniff. An intoxicating bouquet of cherries rushes your senses and is carried through in the taste of this delightful wine. It is silky smooth with lush Bing and bright red cherries, and it finishes with a strong undertone of well-developed tannins – no bite here! There's a hint of northern California produce throughout, reminiscent of baby spinach, which adds to the complexity of this wine.
It is the perfect match for a bacon-wrapped filet mignon with grilled asparagus. It also would be stellar with a salad of baby spinach sprinkled with dried cherries, roasted walnuts, and a bit of crumbled Mexican queso fresco, all generously coated in a warm bacon dressing served with crusty sourdough garlic bread.
Cheers!
Comments
Commenting has been turned off.
Blog
Recent Posts
October 21, 2016

October 1, 2016

October 22, 2015

August 13, 2015

(2 Comments)

June 30, 2015

June 29, 2015

(2 Comments)

May 19, 2015

May 18, 2015

November 3, 2014

November 1, 2014
Blog Categories
Our Writers
Blog Archives