Blog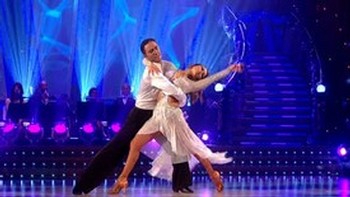 "Wine is a dance partner that knows its moves but needs a partner that is also equally versed and willing to dance the same dance. You can't have a wine that dances a waltz with food dancing the rumba," says Chef Christo. And he should know – Chef Christo has catered some of New York's most glamorous events, wowing everyone with his creative, artistic food presentations. So if he says a food is dancing a rumba, you probably want to find a wine that can shimmy to the beat of conga drums … and you'll get an incredible pairing like this one.
Drawing on creative imagery when describing food and wine is what Chef Christo does on an ongoing basis, and it's really no surprise when you learn about his artistic background. Before becoming a chef, he worked for more than a decade as a fashion stylist for major magazines. "I picked out clothes and created unusual accessories to go with them," says Christo. "I made funky head wraps from paper, I tied ties in unique ways – that kind of thing. I'd take all that and put it into my presentations." These days, he pours that artistic ingenuity into his cooking where he feels that the presentation is just as important as the taste. "I use a color a wheel to help me pick the seasonal ingredients for my recipes. I try not to have too similar colors on a plate. Layers of colors are okay, but I prefer contrasting colors. So, for example, if I choose corn as an ingredient, I would put it with purple potatoes. I go about my cooking the art school way."
He is always trying out unique combinations but the experiments starts first in his brain, not in the kitchen. "If I experiment when I'm cooking and it doesn't work out, then I've wasted food. So instead, I put together unique food combinations in my mind. As I shop for the ingredients I visualize the final product. I start to see how it will look as I shop. Then I go to the kitchen and try it on the plate a couple of times to make sure it all works."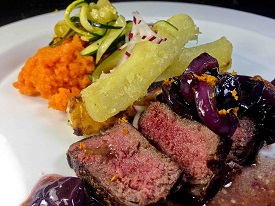 Christo's CHOCOLATE CHERRY VELVET ANTLER STEAK is a great example of this meal-making mental imagery. "I took one taste of the Zinfadel and absolutely knew that I had to make a chocolate-cherry sauce to pair with it. Then I wanted a nice rich meat to go with the sauce, and I thought of venison. Just be sure to get a mild cut of venison – you don't want anything too strong."
You'll love how Chef Christo dresses up venison with caramelized red onion, blue berries and orange zest. It's finished with a bittersweet chocolate compound butter, and served with carrot puree, julienned zucchini and fried yucca.
Chef's wine recommendation: Middle Ridge 2010 Old Vine Zinfandel
You can find "Chef Christo Gonzales" on Facebook, or enjoy his blog – Chez What?
Blog
Recent Posts
October 21, 2016

October 1, 2016

October 22, 2015

August 13, 2015

(2 Comments)

June 30, 2015

June 29, 2015

(2 Comments)

May 19, 2015

May 18, 2015

November 3, 2014

November 1, 2014
Blog Categories
Our Writers
Blog Archives