Blog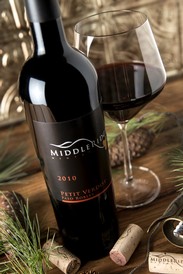 It seems very few people have had the good fortune of tasting and appreciating a Petit Verdot. That's because few winemakers attempt making it – the grapes produce a wine that is typically coarse, tannic and hard to drink. However, mine has nice bright acids, smooth tannins and is really delicious.
The name Petit Verdot means "small green" and is actually the reason this grape is difficult to grow in its home region of Bordeaux. Unless weather conditions are perfect during flowering, the berries won't develop, and they remain small. It also tends to ripen later than other Bordeaux varietals, which means that in some years the entire crop is lost. As a result, many French growers uprooted their Petit Verdot plants in the 1960's in favor of the easier-to-grow Cabernet and Merlot. However, the 1980's saw a resurgence of Petit Verdot when viticulturists in the U.S., Australia and Argentina discovered that the grape grows really well in the right climate.
I can't wait for you to try my Petit Verdot. It just may become one of your favorites!

"The red wine/ white wine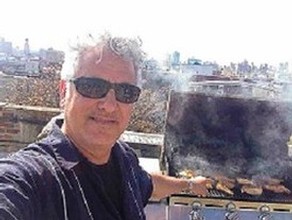 dilemma is easily solved; drink what makes you happy. Sure a bold red can hold up to your medium rare steak but a crispy Pinot Grigio is equally as satisfying and it might bring out flavors you missed," says Chef Christo Gonazales, a New York City-based executive chef who definitely knows what he's talking about.
You can catch Chef Christo as a Char-Broil All Star making appearances on the Weather Channel. You can also find him catering some of New York's swankiest events and elite private parties, wowing everyone with his colorful, mouth watering presentations. Lately, you might also spot Chef Christo sipping Middle Ridge wine and working with Winemaker Chris to create some delicious food and wine pairings -- with amazing results.
"I've always wanted to be a Chef ever since I was a little boy."
Christo remembers fondly how he used to race home from school because he had just fifteen minutes to catch Julia Childs on television. "I tried to learn as much as I could – I wanted to try do everything I saw Julia do," said Christo. "Since I lived in rural New Mexico I could easily catch fish and cook them. Then I started changing and adapting Julia's recipes and cook food the way I wanted to."
Life has a funny way of working though, and Christo didn't become a professional chef right away. Instead he worked for more than a decade as a fashion stylist for major magazines and then moved on to other non-food related jobs. But he kept cooking as hobby while his desire to cook professionally simmered in the background. "I was a single dad, and I'd take my son to the playground and I'd bring my soup for us to eat. Other parents there started tasting my soups and liked them. So I turned it into actual business. I would do home deliveries and bring people a week's worth of good, homemade gourmet soup." One of his happy customers told him about a catering company looking for a chef. One job lead to another, and now he's Executive Chef at Showstoppers Catering. He continually blows everyone away with his amazingly artistic food presentations.
One presentation that we're very pleased with is his recipe for NEW YORK CHOP & SLAW.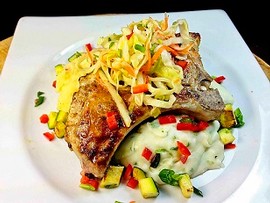 This recipe features grilled pork chops with garlic and parsley mashed potatoes, parsnip and red pepper puree, grilled zucchini, and cabbage slaw made with a green apple, carrot, and red radish.
Chef's wine recommendation: 2013 Pinot Grigio
"The coleslaw I created for this dish was absolutely inspired by the Pinot Grigio. I love the wine's crisp, refined taste, and I knew that the fresh slaw would complement it nicely."
You can find "Chef Christo Gonzales" on Facebook, or enjoy his blog – Chez What?
Blog
Recent Posts
October 21, 2016

October 1, 2016

October 22, 2015

August 13, 2015

(2 Comments)

June 30, 2015

June 29, 2015

(2 Comments)

May 19, 2015

May 18, 2015

November 3, 2014

November 1, 2014
Blog Categories
Our Writers
Blog Archives