Blog

In my post on Demystifying Wine Aromas, I mentioned that smell – not taste – is the human sense that defines the overall flavor of wine. And I spoke about the Middle Ridge Signature Aroma Table – a smell-able display of aroma "reference standards" that are typically used to train wine competition judges and wine writers. I prepare the Aroma Table every year to help guests at our Annual Barrel Tasting learn to identify aromas in wine and develop an understanding of what they enjoy. The table contains over 40 aroma samples – everything from black cherries, nutmeg, and tobacco in red wine to pears, lime and grapefruit in white wines.
The Signature Aroma Table has been a huge hit year after year. Guests enjoyed it so much – especially when they had one of those "Aha!" moments – that I wanted to do more to enhance their learning experience. And that's why I expanded the table to include oak aroma samples.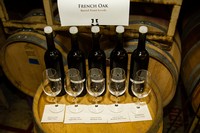 The first addition to the table was five samples of wine aged in French oak. Each sample represents a different toasting level on the inside of the barrel – light, light+, medium, medium+, and heavy. (Winemakers get to choose the toasting level when buying barrels.)
It was so much fun to see the looks of surprise when guests smelled the samples and realized how much barrel toasting impacts the aroma of wine. These are definitely good students, so I couldn't stop there. The following year, I added a set of American oak samples. Now guests could experience not only the impact of toasting levels but the differences in the type of oak used as well. Wow, this was fun!
So what is it that folks experience? Here's some interesting info on what happens to wine aromas the longer a barrel is toasted:
Wine aged in a lightly toasted barrel retains some of the fresh wood aromas of the barrel.
As a barrel is toasted longer, the fresh wood aromas diminish and sweeter, sugary aromas from the wood such as butter, caramel and vanilla increase.
At higher toast levels, these aromas are replaced with darker, earthier aromas such as spice, smoke, tobacco, and coffee.
And what about the differences between French and American oak?
FRENCH OAK is a much tighter grain than American oak. As such, the aromas imparted by a French oak barrel are more subtle, which allows those of the grape varietal to be more noticeable. In addition to a perceived aromatic sweetness, common descriptors for wines aged in French oak are fruity, cinnamon and allspice along with chocolate, smoky and coffee.

AMERICAN OAK, with its wider grain, tends to impart stronger, more obvious and sweeter aromas. Common descriptors for American oak are vanilla, honey, butterscotch, coconut, sweet spices and dill. Aromas of pine, resin, and cedar are also associated with American oak.
From the winemaker's perspective, a wine barrel is never "just" a barrel but a powerful took in the winemaker's arsenal. I actually think of them as my spice boxes. I use them to season wine in much the same way that I use spices to season food when I'm cooking.
Winemakers usually have a strong preference for the kind of oak and the toasting level used to make their barrels. I certainly do! I use French oak – and a medium or medium+ toast – exclusively because I like the way it works in subtle ways to enhance the natural fruit aromas of the wine. In my opinion, American oak tends to overpower the beauty of the fruit. But, like I said, that's my preference. You have yours, too, although you may not know how to describe it or what to look for when you're shopping for wine. And that's why I love sharing the experience of our Signature Aroma Table. If you live in Southern California or can make arrangements to be in the area, I hope you'll join us for our Annual Barrel Tasting and develop a better understanding of what you enjoy in wine … one sniff at a time!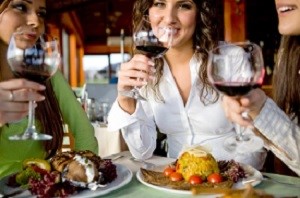 "A little splash of the wine you are drinking can't hurt the sauce you are making," says Chef Christo, executive chef for New York's Showstoppers Catering. We agree…after all, it's pretty common practice at Middle Ridge headquarters to add a little "sauce" to whatever is brewing on the kitchen stove. If it's midnight, you just might find Winemaker Chris cooking up some wine-glazed chicken as one of his infamous midnight snacks – and he often uses whatever open wine is in hand.
When it comes to cooking for his glamorous clientele, Chef Christo takes this approach a step further. He only cooks with the wine that he's serving later with that particular meal. "Otherwise, it introduces too many different tastes. And if they picked that wine for their dinner, then I know they like it. So why use anything else?"
And how does Chef Christo select the perfect wine to pair with his gourmet recipes? He actually figures out what food to serve after his client has picked the wine. "The food can be adapted to the wine – the wine can't be adapted to the food. When I'm putting together a pairing, I taste the wine first and whatever little nuances or even bold flavors come out at me, then I start to think about balanced contrasts and accent points to bring out the flavor even more. So, if I taste oak and apple in a wine that a client likes – then I can pick food that goes with that wine. If a client does the opposite and tells me, 'I want your Moroccan Grilled Salmon; find us wine to go with that,' it's a lot more difficult because wine preferences are so subjective. "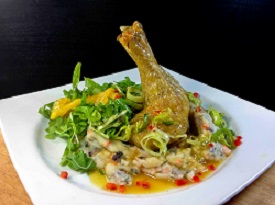 When Winemaker Chris sent over his bottled cocktail The Mule for Christo to try, the chef's creative mind started working right away on the perfect recipe to go with it. After sipping on it a while, he came up with delicious ORANGE SUPREME CHICKEN which is easy to cook for a family dinner, yet it's dressed up just in case company stops by. "This dish pairs beautifully with The Mule since it plays off nicely with the thyme orange glaze and the soft unctuousness of the roast chicken. The spicy bite of the arugula complements The Mule's subtle carbonation."
Chef's wine recommendation: Cocktails Sur Lie, The Mule
You can find "Chef Christo Gonzales" on Facebook or enjoy his blog – Chez What?
Blog
Recent Posts
October 21, 2016

October 1, 2016

October 22, 2015

August 13, 2015

(2 Comments)

June 30, 2015

June 29, 2015

(2 Comments)

May 19, 2015

May 18, 2015

November 3, 2014

November 1, 2014
Blog Categories
Our Writers
Blog Archives