September 4, 2014 | Wine | Chris Johnston
Our Red Takes Home a Gold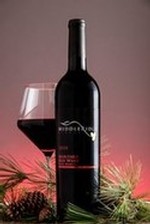 Our 2010 Meritage made from Paso Robles grapes was released just a few months ago, and I'm happy to announce that it's already racking up awards—most recently it won a Gold Medal at the Long Beach Grand Cru. We call it our yum-yum juice, and it seems the judges think so, too. Not a surprise, really, since Meritage has always been one of our signature wines.
This Bordeaux blend, so called because it's made from grape varietals from the Bordeaux region of France, consists of Merlot, Cabernet Franc and Cabernet Sauvignon … heavy on the Merlot.
Here's a fun fact: A red Meritage must be made from a blend of at least two of the following varietals: Cabernet Sauvignon, Merlot, Cabernet Franc, Malbec, Petit Verdot, and the rarer Carmenère, Gros Verdot and St. Macaire. None of these varietals can comprise more than 90% of the blend, and no other varietals can be used in the blend.
By the way, did you ever wonder if you're pronouncing the word Meritage correctly? It's really easy to remember the correct pronunciation. Just think of the word heritage. The word Meritage is actually a combination of the words "merit" and "heritage" and is the result of an international contest – with 6,000 entries! – held in the late 1980s by the Meritage Alliance. These American winemakers joined forces and held the competition to create a name that would identify wines blended in the tradition of Bordeaux. Why didn't they just call their wine a Bordeaux? Good question. Wineries outside of Bordeaux, France are prevented from doing so based on an international agreement. Now there's an interesting tidbit!
Another thing most folks don't know is that most wines are blends. The label may say Cabernet Sauvignon, Merlot, what have you, but that doesn't necessarily mean the bottle contains 100% of that particular varietal. The government has specific guidelines on wine labeling. For example, a wine must be made from at least 75% Cabernet Sauvignon in order to label it as a Cabernet Sauvignon. The remaining 25% can be whatever grape the winemaker wants to use to bring out the best notes of the Cab Sauv.
But back to the Meritage … Another fun fact: I like to age my reds for at least 24 months in French oak. This one was aged exceptionally long – for a full 39 months! Yep, that's a long time. But the result is a beautiful, rich wine with lots of ripe plum and juicy blackberry aromas that morph into cherries. With just the right amount of acid and a smooth tannin structure, it's a delight to drink alone or to pair with red meat dishes like roast beef or barbeque tri-tip.
One sip and I'm willing to bet that you'll feel that our Meritage is worth the wait!
Comments
Commenting has been turned off.
Blog
Recent Posts
October 21, 2016

October 1, 2016

October 22, 2015

August 13, 2015

(2 Comments)

June 30, 2015

June 29, 2015

(2 Comments)

May 19, 2015

May 18, 2015

November 3, 2014

November 1, 2014
Blog Categories
Our Writers
Blog Archives